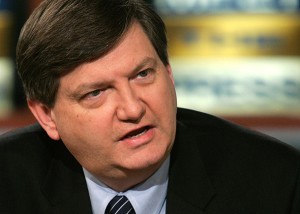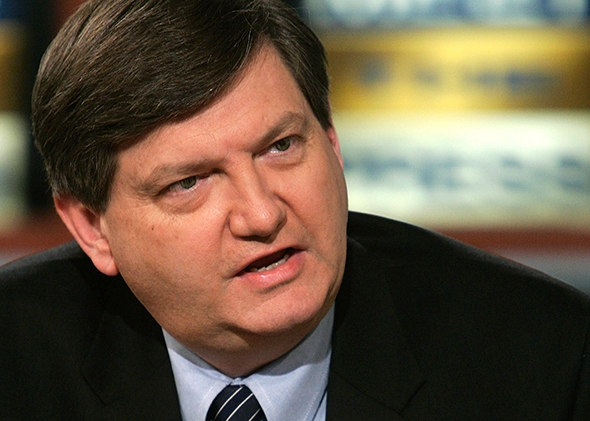 Last week, the judge in the Jeffrey Sterling case, Leonie Brinkema, moved to force a conclusion to a long-simmering controversy. On December 9, she ordered the government to prepare to reveal whether it would force journalist James Risen to name his sources in Sterling's trial, which is due to start in mid-January.
"Since June 2, 2014, the United States has had over six months to decide whether it will subpoena James Risen to testify at this trial, which is scheduled to begin Monday, January 12, 2015," Judge Brinkema said in her order requiring the government to be prepared to commit to whether it will ask Risen to testify and under what conditions at a hearing on Tuesday.
On Friday, NBC reporter Pete Williams (who has not followed the Sterling proceedings closely) reported that DOJ will not require Risen to reveal his sources.
But now, according to the Justice Department official, Holder has directed that Risen must not be required to reveal "information about the identity of his source."

If the government subpoenas Risen to require any of his testimony, the official said, "it would be to confirm that he had an agreement with a confidential source, and that he did write the book."
Josh Gerstein, who has covered this case closely, notes that the government might force Risen to explain he had "sources," plural, for his chapter.
Risen could still face a subpoena for the trial set in federal court in Alexandria, Virginia, next month for his alleged source, ex-CIA officer Jeffrey Sterling. However, if such a subpoena were to be is issued, it would require the Times reporter only to testify about such things as the general accuracy of his book "State of War" and that it relied on a source or sources that Risen will not identify.

Risen has previously expressed a willingness to testify about such basic facts, but more recently he has said that he is not inclined to testify at all.
On Saturday, however, Risen tweeted that his lawyer had heard nothing from the government about how it planned to proceed.
From my lawyer, Joel Kurtzberg: "We have not yet heard from the government. They have made us no offers. When they do, we will respond."
Of course, even if the government decides to issue a limited subpoena, that does not entirely answer how Risen will be forced to testify at trial. If the government called Risen to testify, after all, Sterling's attorneys would have the right to cross-examine Risen on his testimony. And Sterling's lawyers know that — as ExposeFacts noted earlier this month — journalists of Risen's caliber do not write entire book chapters based on a single source. Sterling's lawyers would have every incentive to get Risen to testify about the range of sources he used for his book.
Setting Sterling's lawyers up to ask Risen how many sources he spoke to for the chapter of State of War might be particularly useful for the government, given that Sterling will be able to introduce some information (the scope of which is not yet public, pending the declassification of a Brinkema order on the subject) about how witnesses against him, including his supervisor at the time, have mishandled classified information. That is, the government may well be in the position to ask Risen enough to allow Sterling to ask the journalist about his sources. This would let the government expose Risen's reporting, but do so at the hands of the defendant and the judge who would then be protecting Sterling's right to a fair trial.
It's not yet clear whether the government plans to spare Risen testimony entirely or not, but if they do put him on the stand at all, it is conceivable it would just set up further demands about his sources from Sterling.
James Risen is fighting to avoid jail time for his reporting. But Jeffrey Sterling is fighting to avoid years in prison. And the government might well exploit that by putting Sterling in the position of demanding that Risen testify further about his reporting.
Ultimately, every source-journalist relationship exposes two people to risk, and the government might try to exploit that in this case.