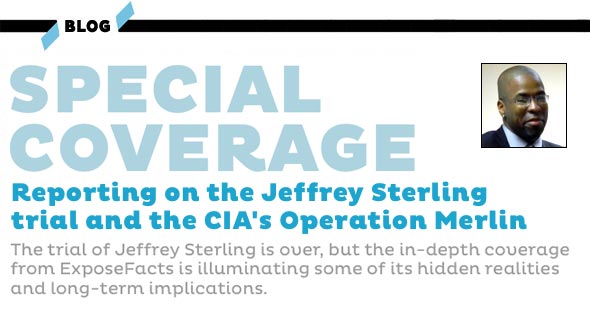 The leak trial of CIA officer Jeffrey Sterling never got near a smoking gun, but the entire circumstantial case was a smokescreen. Prosecutors were hell-bent on torching the defendant to vindicate Operation Merlin, nine years after a book by James Risen reported that it "may have been one of the most reckless operations in the […]
The mass media have suddenly discovered Jeffrey Sterling — after his conviction Monday afternoon as a CIA whistleblower. Sterling's indictment four years ago received fleeting news coverage that recited the government's charges. From the outset, the Justice Department portrayed him as bitter and vengeful — with the classic trash-the-whistleblower word "disgruntled" thrown in — […]
The evidence that Jeffrey Sterling served as a source for James Risen's planned 2003 New York Times article on Merlin consists of two minutes and 40 four minutes and 11 seconds of calls.
Continuing to deliberate as this week gets underway, the jurors in the CIA leak trial might ponder a notable claim from the government: "This case is not about politics." The prosecution made that claim a few days ago in closing arguments — begun with a somber quotation from Condoleezza Rice about the crucial need […]
The government made a big show of protecting CIA's secrets during the Jeffrey Sterling trial. But behind the show, they were exposing another asset, Merlin's wife.
The jury in the Jeffrey Sterling trial has already had 3 substantive questions — two of them on venue.
To hear the prosecution side tell it in the ongoing trial of Jeffrey Sterling, the former CIA officer who is accused of a national security leak involving Iran, Sterling has potentially (emphasis on potentially): * placed a CIA "asset" at risk; * hurt recruitment of other defectors, informants and turncoats; * scared other current "assets" […]
At the close of the Jeffrey Sterling trial, the government presented a story of patriots, heroes, and betrayal. The question is whether they pointed out enough evidence to convince the jury Sterling did betray their heroes.
Six days of testimony at the trial of former CIA officer Jeffrey Sterling have proven the agency's obsession with proclaiming its competence. Many of the two-dozen witnesses from the Central Intelligence Agency conveyed smoldering resentment that a whistleblower or journalist might depict the institution as a bungling outfit unworthy of its middle name. Some […]