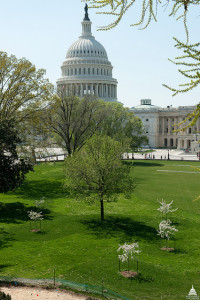 When Congress passes good governance laws — most notably FOIA — they tend to exempt themselves.
They've done the same with a series of Whistleblower Protection laws. While they've amended the Whistleblower Protection Act and added protections to employees in the private finance industry, they have not offered the same protections to their employees.
The entity that reviews Congress' employment practices, the Office of Compliance, recommended they change that by offering the same kind of protections workers in the rest of government get.
OOC noted that people who work in Congress sometimes engage in the same kind of abuse and mismanagement as people in other parts of government — abuse whistleblowers might be able to expose.
Congress passed the Whistleblower Protection Act of 1989 (latest amend) (WPA) to protect Federal workers in the Executive Branch from retaliation for reporting violations of laws, rules or regulations, gross mismanagement, gross waste of funds, abuse of authority, or a substantial and specific danger to public health or safety. Since that time, Congress has also passed other whistleblower protection laws, such as the Sarbanes-Oxley Act, to protect employees in the private sector who report similar violations. While the Legislative Branch may be exempt from laws protecting whistleblowers, it is not immune from the same type of abuse and gross mismanagement as there is in the Executive Branch. Congressional employees do not have whistleblower protections if they decide to report such matters. As Congress has recognized, employees are often in the best position to know about and report violations of law, waste, mismanagement, and abuse in government and they need protections against retaliation when they disclose these violations. Furthermore, whistleblowers save taxpayer dollars. The Board of Directors recommends that Congress apply to the Legislative Branch appropriate provisions of the WPA, and to provide Congressional employees protections from retaliation.
Roll Call used the event of Senate declaring yesterday, July 30, National Whistleblower Appreciation Day, to ask members of the Whistleblower Protection Caucus why their employees weren't similarly protected.
Asked about the office's report, Sen. Charles E. Grassley, R-Iowa, one of the caucus's founders, said federal workers are protected. When informed about the OOC report that stated protections did not extend to legislative branch workers, Grassley said, "We'll take a look at it."

Sen. Claire McCaskill, D-Mo., another of the caucus's founding members, was shocked to learn congressional employees are not protected.

"They should [be protected]," McCaskill said. "I'll go right back to the office and say, 'Draft that legislation!'"

[snip]

One caucus member who was aware of the lack of protections was Sen. Barbra Boxer, D-Calif., who introduced a bill in April to help strengthen protections for military whistleblowers.

"I'm working on a new whistleblower protection act and we are looking at who was left out," Boxer said. Her staff is reviewing the OOC report.

Sen. Ron Wyden, D-Ore., who also introduced the military whistleblower act, appeared poised to take action on including legislative branch employees.

"Sen. Wyden absolutely agrees with the concept that legislative branch employees deserve strong whistleblower protections," said Wyden's spokesman Keith Chu. "He plans to work with Senate colleagues and the Senate Whistleblower Caucus on ways to upgrade the current safeguards for employees who speak out."

[snip]

"I would say that is news to me," said Sen. Ron Johnson, R-Wis., when told that legislative workers were not protected. "I think they should be. And certainly we've [set up] a website, whistleblower@ronjohnson.senate.gov, and I hope they would take advantage of that."
Along with those Senators named here, Mark Kirk, Deb Fischer, Thom Tillis, Tammy Baldwin, and Ed Markey are members of the Caucus, which was formed earlier this year.
While I can imagine those not as committed to whistleblower issues as, say, Chuck Grassley, might be hesitant about making it easier for their employees to report on any mismanagement, this seems like legislation that a little more concerted pressure might be able to bring about.