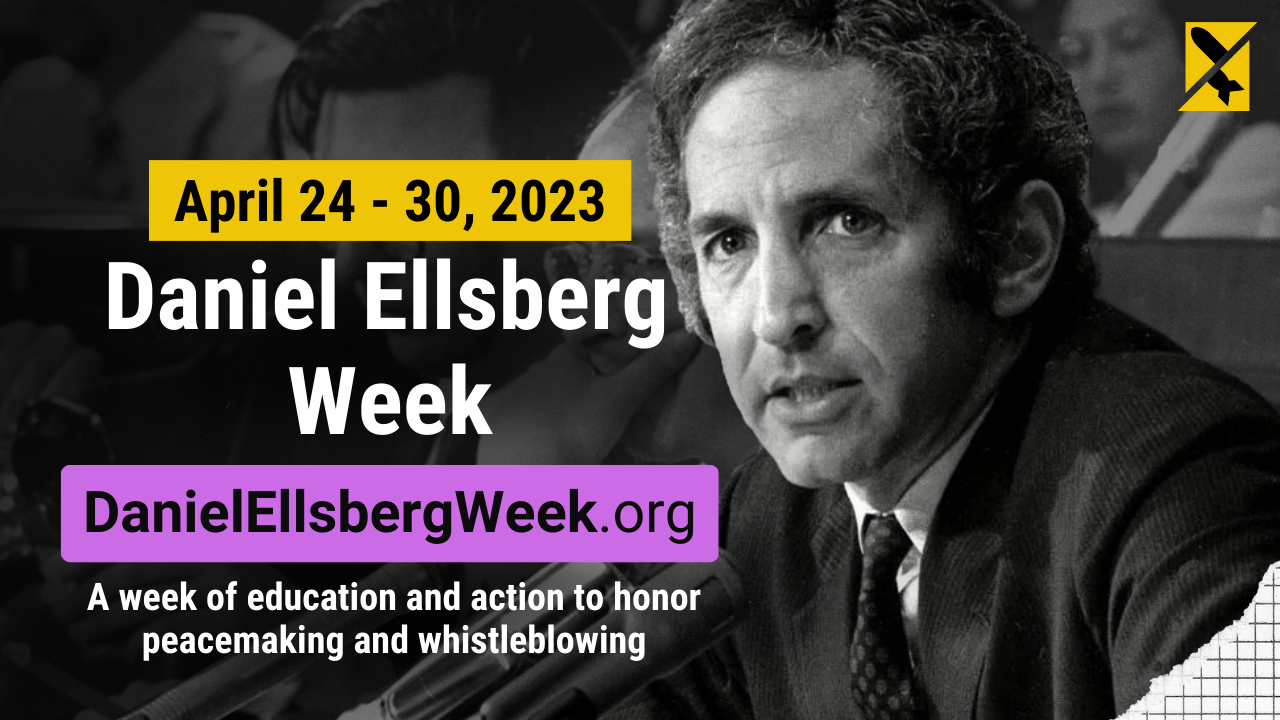 By RootsAction
Whistleblower Daniel Ellsberg helped to end the Vietnam War when he bravely provided the Pentagon Papers to media outlets in 1971. Ever since then, he has been a tireless and inspiring advocate for peace and prevention of nuclear war.
During the last few weeks, widespread heartfelt tributes followed Dan's public letter disclosing that he has been diagnosed with pancreatic cancer, with a prognosis that he has only three to six months to live.
Now, we want to invite you to participate in Daniel Ellsberg Week, April 24 to 30. No matter where you live, there are many options for how you can be part of this grassroots initiative, which RootsAction is launching with the Defuse Nuclear War coalition.
For details on how to join in with this "week of education and action to honor peacemaking and whistleblowing," click here.
Possibilities include:
Ask your city council, county commission, town council or other elected body to issue a proclamation for Daniel Ellsberg Week. (Sample language is here.)
Share Dan Ellsberg's articles, interviews and videos on the Daniel Ellsberg Week webpage via email and social media.
Urge the appropriate local government body or agency to name a street, highway, plaza, square, park, library or school after Daniel Ellsberg.
Organize a virtual or on-the-ground seminar to teach and learn about the vast work of Daniel Ellsberg, including his latest book The Doomsday Machine.
Organize a vigil, picket line or other protest — in honor of Daniel Ellsberg and his enduring legacy — against war and the nuclear arms race.
As you get ready for Daniel Ellsberg Week, please let us know — via email to info@rootsaction.org — what you're planning and how we can help to spread the word across the United States and around the world.